Blazing Mammoth is a video slot partnership between Microgaming and Pear Fiction Studios. The company's sole aim is to craft state-of-the-art games for the online casino industry. It's not the first time
Microgaming collaborated with a smaller slots studio and neither will it be the last. Blazing Mammoth has a prehistoric theme and it's a low variance slot. If you play the slots with real money; you can win as much as 2,000x your stake on a single spin.
"Featuring gorgeous sunsets on snow-capped mountains on savage lands. Along with wooly mammoths and sabertooth tigers, Blazing Mammoth brings excitement to the reels with every spin." Pear Fiction Studios
The theme is the same as Betsoft's big hit Primal Hunter. Which happens to be one of our favourites online slot games. Plus, players from the United States can play it our greatest USA online casinos! Moreover, the reel configuration of Blazing Mammoth is straightforward. The slot has 5 reels, 3 rows, and 20 paylines. Interestingly, the graphical display of Pear Fiction Studios' slot machines is similar to that of Betsoft's.

The math model is ideal for casual players. You can play Blazing Mammoth from $0.20 to $120 at trustworthy mobile casinos. The hit frequency of 39.75% is very high. In layman's terms, you'll receive a winning spin on every 3rd spin you make. Pear Fiction Studios tops up Blazing Mammoth with Free Spins and Jackpots.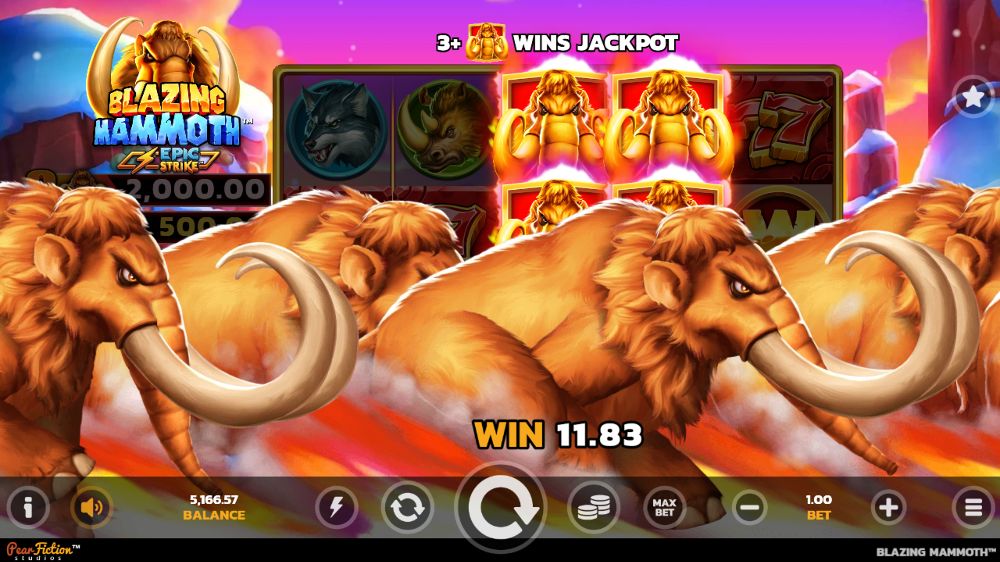 RTP & Symbols
The RTP or payback rate of Blazing Mammoth is 96.24%. In other words, it's squarely above average, which rounds off the math model just fine. It's flawless mathematically and ideal for players that enjoy relaxing sessions. The risk of long dry runs is minimal here.
Visually, the prehistoric theme makes Blazing Mammoth memorable. The low-value symbols are the prehistoric animals. That means wolves, sabertooth tigers, and even bears, with the titular mammoths working as Scatters. We'll get to them a bit later on.
The high-value symbols are the sevens. They pop onto the reels as singles, doubles, even triples, with increasing values. When a bunch of triple sevens appears; you'll win 37.5x your stake. Finally, the Wilds look like Ws and a full reel pays a cool 125x!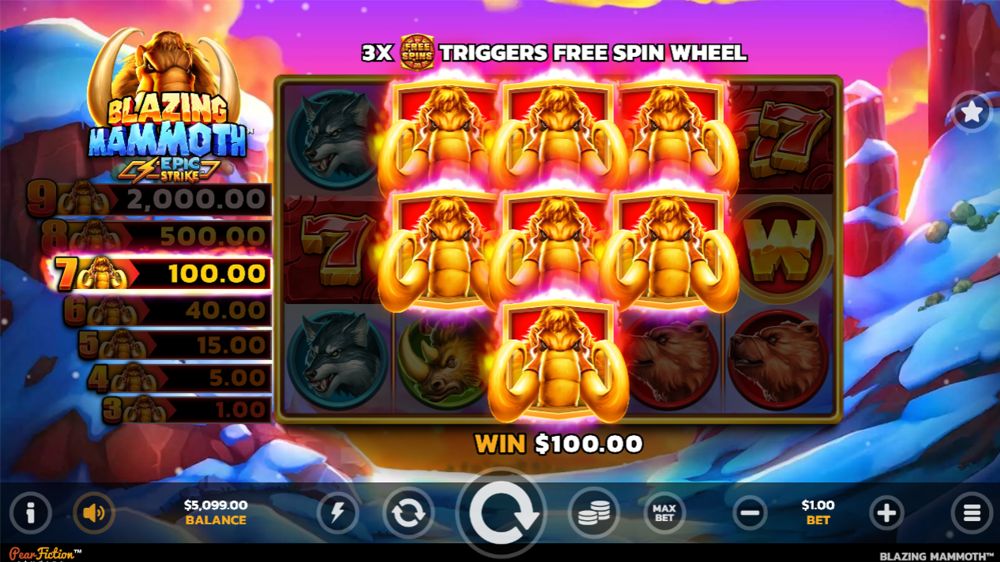 Bonus Rounds Blazing Mammot Slot
Free Spins
If you find 3 Free Spins symbols on the reels in the base game. The game engine whisks you off to a small wheel of fortune minigame. This determines how many free spins you'll receive as well as the multiplier. Now, as far as the free spins go; you can snag anything from 10 to 30.
For win multipliers, you'll get 2x or 3x, with that win multiplier staying in effect throughout. You can also re-trigger the feature during a free spin. If you do, you won't return to the minigame again. Instead, you'll the game engine automatically adds the free spins to your current tally.
Jackpots
The other bonus round has something to do with jackpots and Mammoth Scatters. Your goal is to find a set of 3. Moreover, the Mammoth Scatters offer coin wins when they pitch. The more Mammoth scatters, the bigger the payout. To give you an idea, when 3, 4, 5, 6, 7, 8, or 9 Mammoth scatters appear. You'll win anything from 1x, 5x, 15x, 40x, 100x, 500x to 2,000x the stake, respectively.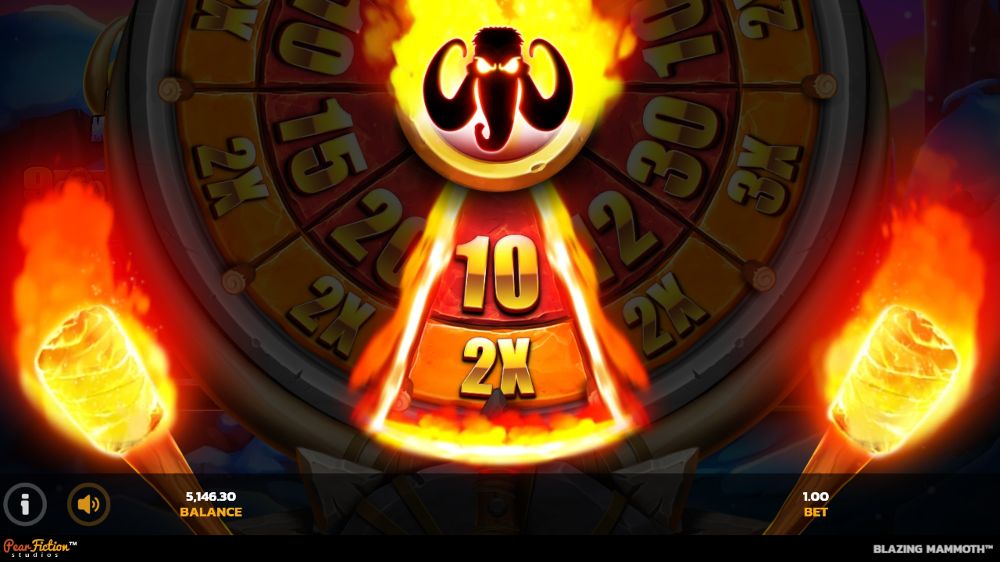 Blazing Mammoth Tips & Strategy
Blazing Mammoth won't bleed your bankroll dry. At least that's our observation. With a budget of $100 at an average bet of $1 per spin, we had an enjoyable outing. The gameplay loop ropes you in from the very first spin. The graphics, animations, and audio track heighten the theme and ambiance.
Play pivots around the scatters. Every Mammoth scatter that shows gives you a crack at the jackpot albeit small. We won the 15x jackpot twice and the 40x jackpot once. More importantly, they add up as you play, even if you don't get to the 100x+ levels.
We even triggered 30 free spins with a 2x multiplier on our 45th spin. Upon conclusion of the bonus round, we won $150, which amounted to 150x our bet. Not bad at all for a slot that primarily targets the penny pincher, right? Our dig with Blazing Mammoth continues as we deem it an evergreen slot. What's we're saying is we'll definitely play it again!
Verdict
Blazing Mammoth is an excellent video slot from Pear Fiction Studios. The math model is as laid back as it gets and the payouts dandy. The prehistoric theme is fresh and the bonus rounds are easy to trigger. Basically, all the stuff we want to see in a slot. If ever there is a slot where your chances of winning the jackpot is far better than the average slot; it's Blazing Mammoth.