Back to Venus is the 'delightful' real money slots sequel to It Came From Venus. Let's hope Back To Venus is just as colorful and endearing as its predecessor. With Betsoft Gaming at the helm of things, we're confident that it will be an online slots buster. The theme of the slot machine is about a giant alien plant that invades a farm with hilarious results. It features Betsoft's revolutionary Second Chance features which we talk about in more detail further down in this review.
The visual fidelity is sharp and the gameplay will hopefully keep you on the edge of your seat from the very first spin! The graphical aspect of any online slots plays a key role in its success. Those who say graphics 'don't matter', don't see the bigger picture. If a slots developer fails in this regard it could have a substantial impact on the title of the game itself.
Back to Venus is a medium variance video slot that offers a non-progressive jackpot of 4,338x your stake. So, we'll give it a 3/5 on the volatility scale. The minimum bet per spin is £$0.20 to £$20. Will it solicit a few spins from the high roller casino players? The jackpot of €86,760 is hardly a high roller's dream come true, but it's perfect for low rollers. We're also happy to see that it offers Re-spins, Sticky Asteroid Wilds and a Rocket Ship Free Spins feature. Blimey, giddy us up, Scotty! It looks like a cracking slot machine that has enough in it to keep you busy with a few sessions. You can now play Back to Venus at our best USA online casinos. If you sign up through Casinowhizz.com, you'll receive an exclusive bonus on your first deposit.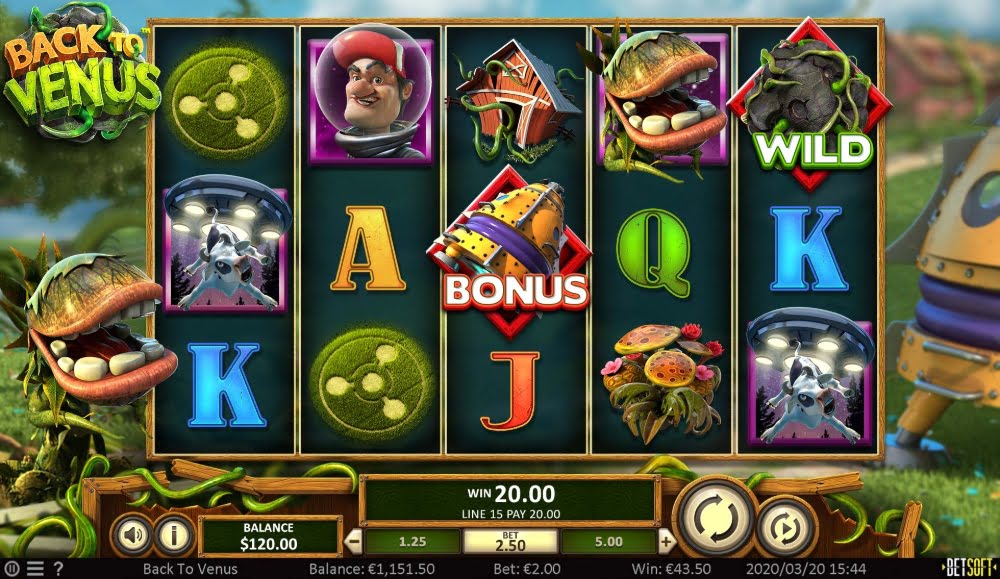 RTP & Symbols
Farmer Joe's farm serves as the backdrop for the reels. The symbols on them are cards from Jack to Ace (low value), the rocketship (scatter), the asteroid wild, farmer Joe, the Venus alien plant, cow, shack, alien mushrooms, and UFO sign. The premium symbol is farmer Joe, and when 5 of them pitch at the maximum bet per spin, you'll snag a nice payout of 300 coins. Back to Venus has an RTP of 97.07% which is lower than the industry standard of 96%. We played the free slots version of it and we received a payout on every 5th spins well more or less. Therefore, we're looking at a possible Hit Ratio of 30%. Not bad, but let's discuss the in-game features and take it from there.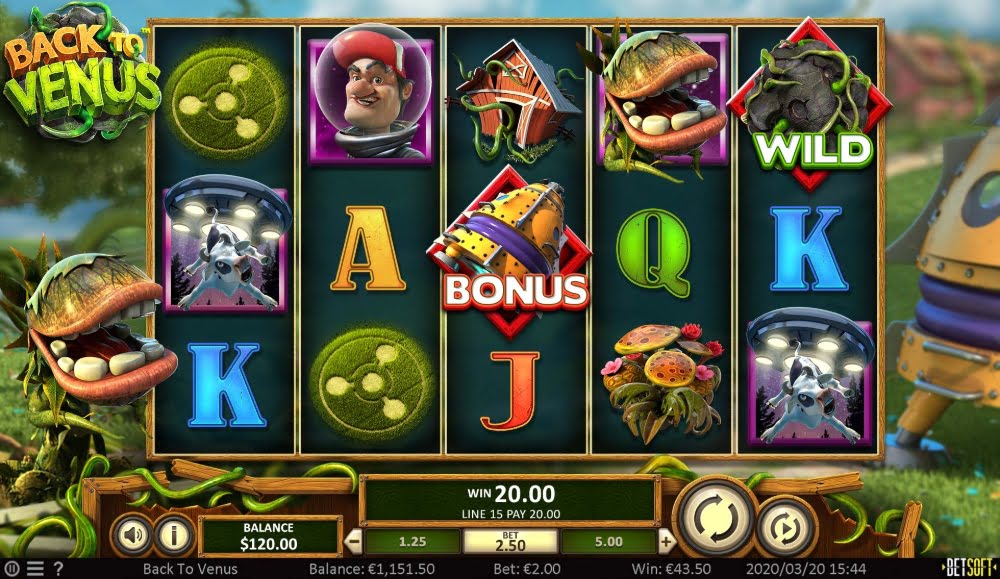 Bonus Rounds
The Prickly Sticky and Re-spin
You'll trigger The Prickly Sticky and Re-spin feature on a random spin in the base game. Once the feature is active a random symbol is picked, offering you a bunch of re-spins until you hit a winning combination. The re-spins end when you no longer receive a winning combination.
Sticky Asteroids Wild
The Wild symbol is the sticky asteroid. It substitutes adjacent symbols during a winning combination, and when they plop onto the reels, they're sticky for two spins! Just when we thought Back From Venus is running out of steam, we see that the alien plant makes its presence felt as well.
Flowering Burst Feature
When the alien Plant bursts onto the reels as a golden orb of fire you'll trigger the Flowering Wild Burst feature. You'll receive a Free re-spin and your odds of landing the Asteroid Wilds are pretty good too. As long as the Plant remains on the reels your chances of frequent storms of Sticky Asteroids are good. Exciting stuff!
Rocketship Free Spins
Now that we're heading into the business end of Back To Venus aka the Free Spins. Let's take a look at why it's the most important feature, and how you can trigger it. You'll trigger the Free Spins feature when 3 Rocketship scatters appear any position on the reels in the main game. As you climb in the Rocketship, a new screen Free Spins feature opens up that take you to Venus! Betsoft describes it as 'flowering fun in space'.
You'll receive 10 Free Spins and Sticky Asteroid Wilds. Now, if you're lucky enough to land 4 Rocketship scatters, you'll receive 10 free spins and the chance of hitting multiplier wilds. Okay, you might be thinking what's the big deal here because the 4 scatters also award 10 free falls. The 'big deal' is those Multiplier Wilds. Should you hit a full screen of them, you'll win the jackpot of 4,338x your stake, it's not rocket science so please pardon the pun.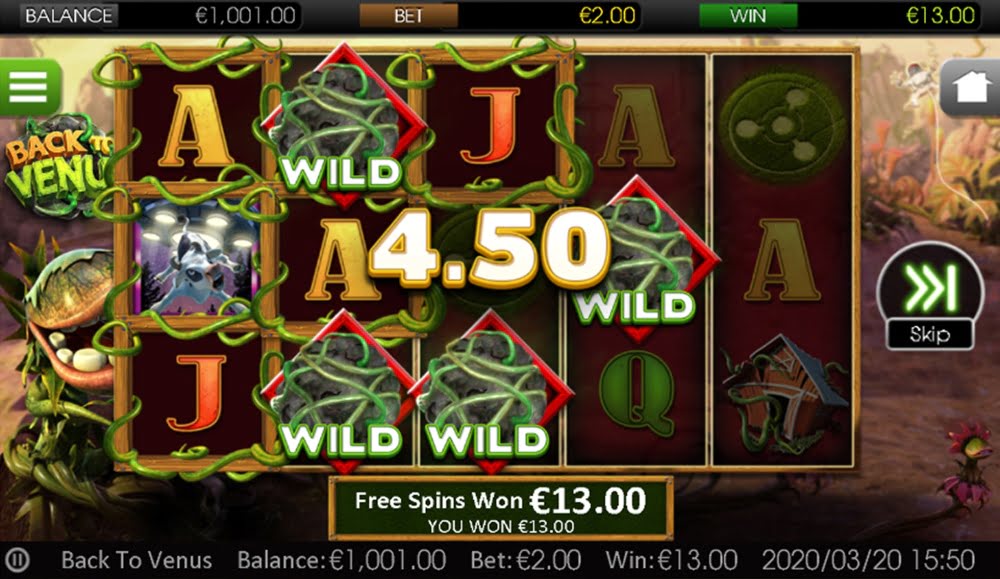 Verdict
Betsoft Gaming releases slots for real money online now and again that prompts us to sit down and take notes. With Back To Venus, it comes close, but unfortunately no cigar. Our initial response when we saw it for the first time was, wow! Maybe, Betsoft is onto something big here! Unfortunately, the proof in the pudding is eating it. And, this is exactly what we did – we played the free slots version of it first before we risked real cash. We quickly noted that it's almost a skin of the original 'It Came From Venus' with a few innovative streaks splattered here and there.
The main game lacks depth despite the fact that it does have a few random features. The Asteroid sticky wilds are good because they appear often, but 4 or more seldom pitch. If you're prepared to grind out the Free Spins feature, it might be worth it, but that's just an expert guess from us. Also, the RTP of 97% doesn't really do it justice since the big wins are very far and few in between. If you're looking for a unique slots experience, we can't recommend, Max Quest: Wrath of Ra enough.
[wp-faq-schema title="Back To Venus Slot FAQs" accordion=1]