Let's keep the Marvel Series action games going with another winner from Playtech with The Avengers. This Playtech powered video slot brings to life Marvel's superheroes with Iron Man, Captain America, Hulk, Thor, Black Widow, Hawkeye and Nick Fury all running on 5 reels and 20 paylines. Taken from the blockbuster film; Iron Man, Hulk, Captain America and Thor all team up with Nick Fury to do battle against Loki from destroying planet Earth. Play and bet this game ranging from 50p/c up to as much as 500 pounds or Euros a spin. the house edge on this game is 4% giving a 96% RTP and there are 4 multi level progressive jackpots with the highest currently at €330,000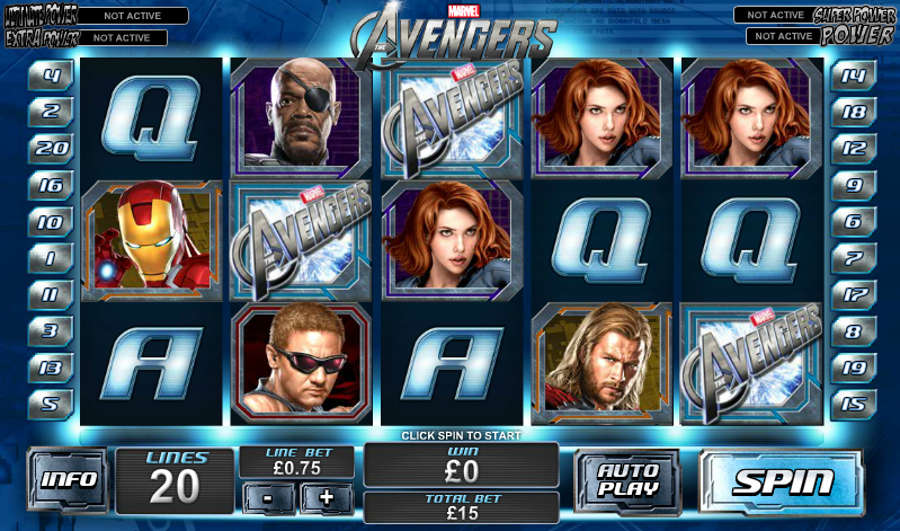 Game Play
The Avengers video slot brings you 5 Bonus features to play; first up is the Avengers Assemble on Reels feature, which is triggered when Iron Man, Hulk, Captain America, Thor and Nick Fury all appear consecutively on a payline; when this occurs, you will be awarded with a prize of 10x your bet.
Next up is the Wall of Heroes Bonus Feature, which is your main attraction; this bonus feature is accessed when anywhere on the reels, 3 Avengers logo symbols are obtained. Hit this bonus feature and be awarded with 4 Free Spins all inspired by the superheroes. Feast your eyes on a wall where you will see 20 Avenger icons, where you must then unveil and match 3 superheroes.
Free Spins
Let's go to Hulk Free Games feature where 9 Free Spins await; to trigger this feature, watch as the Hulk takes over reel 3making it the Wild reel. As with the Captain America Free Games feature, 9 Free Spins can also be won as each Free Spin in this feature has a multiplier ranging from 2x to 5x. Multipliers of 2x and 3x are given to the first and second spin, while 4x and 5x are given to spins three and four times respectively. Repeat this process as it goes from 2x to 5x with the last spin on 2x.
Another 9 Free Spins await in the Iron Man Free Games feature, where the multipliers start at 1x and go up by 1 after your third spin. What's cool about this feature, however, is Iron Man will float across the screen and increase it; meaning when this happens, Free Spins 1 to 3 have a 1x multiplier, 4-6 have a 2x multiplier and 7-9 have a 3x multiplier. An Extra Wild is present in this feature when the Reactor symbol remains fixed in the middle of reel 3.
Bonus Games
Best of this Free Games feature, however, is the Thor Free Games where you will also get 9 Free Spins; But, before free spin, watch Thor throw lightning bolts with his hammer. When this occurs, Thor turns up to 5 random symbols in Random Extra Wilds. With this added extra feature, this Free Games feature will give you the biggest opportunity to win big.
Let's talk winnings where with the Avengers slot, the maximum win amount is a huge 7,000 times your bet! This can be accomplished by by getting 5 Wilds and 5 Random Extra Wilds during a spin.
Once done with a particular feature, it's back to the Wall of Heroes screen where more picks await. The Wall of Heroes Bonus feature will continue until Loki is uncovered. Once Loki is uncovered, you will be taken to a screen where your winnings will be revealed.
Overall, Avengers video slot delivers fast paced action along with brilliant graphics and animations that all adds up to a great slot that will have you coming back to play over and over.
Verdict
I'm a big fan of anything Marvel, TV Series, Comics, Movies and yes even this slot! the graphics are shiny however like most marvel slots they do just look re skinned, this is a hard game and you can spend some big money get hit some decent sized prizes, this is a slot that's definitely kept for the high rollers.