I've always been a fan of King Arthur and his knights of the round table. It resonates well with people from all walks of life and his heroic exploits echos across the centuries. Come to think of it, it kinda makes sense why Microgaming decided to roll out a slots based on this iconic king and his exploits. Based on its predecessor (Avalon I), Avalon II offers way more when it comes to overall entertainment and payouts. Without a doubt the highlight of the game is its Grail Bonus Feature.
Avalon II 3D online slots has 8 distinct bonus games laced with free spins, rolling reels, scatters, trailing wilds and multipliers. In my humble opinion it does give the player a sporting chance at winning a decent amount of cash. With 243 ways to win and 5 reels the game is simply dynamite. It comes with a medieval theme where the Arthurian legend comes to live across the reels. Your mission in the game is to find and to restore the grail to its rightful owner.
Avalon II is a medium variance slots where the RTP (return to player) is 96.5%. The total non-progressive jackpot is 120,000 coins. It pays out regularly during the main game but larger wins are reserved for the free spins games. This is a browser-based slots and can be played on the latest mobile phones (Androids, iPhones, tablets and iPads), Apple Mac and Windows desktops.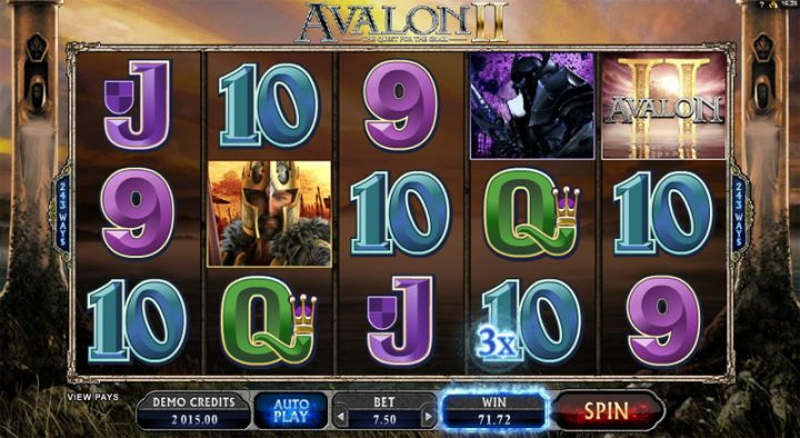 Game Play
Before you embark on your quest for the Holy Grail select the amount of coins you wish to bet per spin. Depending on the size of your bankroll, bets can be made from a £$0.30 up to £$7.50 per spin. Normally the base game doesn't offer much when it comes to payouts.
I'm happy to see that Avalon II had the player in mind this time round. It offers 2 random features during the main game that can be triggered randomly. The first feature is the Merlin icon. When it pops up on the reels you'll receive a cash prize with a multiplier of up to 20 times your stake. The second feature is the expanding wild. When it appears on the centre reel it replaces all the other symbols adjacent to it offering you a nice win.
Bonus Games
Avalon II is an epic slots since its main selling point to players is the 'Grail Bonus' which features 8 distinct bonus games, each with its own cash rewards. It's triggered when 3 or more Grail Bonus icons appear randomly any place on the reels. A new screen opens up and you'll start your quest for the Grail. Additional free spins can be won when you re-trigger the Grail Bonus feature.
Lake Of Legend Bonus: Incidentally this is the first bonus game that features a 'roll the dice' game. Here you must reforge Excalibur (King Arthur's sword). When you've thrown the dice, each number on it represents a fragment number. If a number matches a sword fragment the number on it reforges the sword. Each number on the dice not only represents a forge number but a multiplier as well. In other words if the number is 5 you'll receive a payout of 5x your stake. You have 10 chances at rolling the dice. If you reforge Excalibur, you'll win 15 times your stake plus your previous win of 5x will be added to it.
Mystery value Bonus: Another interesting feature where you must pick a wild. You can win 15 free games with a multiplier of 1x. Once you've picked the highest icon it acts as a wild. If an additional wild appears the multiplier attached to it is 2x.
The Whispering Woods Bonus: You're presented with five options where you must pick one. If you've picked the correct shield the multiplier attached to it can be as high as 160x your bet. Normally the multiplier starts out at 10 times your initial stake.
Forest Falls Bonus: You'll win 20 free spins with a multiplier of 1x. The trailing wild is the Avalon II wild. When one of them appears on row 1 or 2, regardless of the reel position, it expands upwards awarding a re-spin.
Dusky Moors Bonus: Twelve items appear on the screen. You must match two helms. Each matching helm has its own multiplier between 6x up to 20x. The non-matching helms' multipliers are 2x up to 8x.
Morgans Keep Bonus: You'll receive 20 free spins with a 2x multiplier. This section of the game offers a nice twist since the rolling reels feature comes into play here. After each win the multiplier can increase a payout win by 2x, 3x, 4x, 5x up to 6x.
Hall Of Shadows: This is where you must parry or block the Black Knight's blows. The cash payout you'll receive depends on how successful you've attacked or blocked.
Avalon Bonus: Of the 8 bonus games this is the last one. To win the highest multiplier you must spin the reels first. There are 4 wheels. The fourth wheel can only be unlocked if you get a zero on the third reel. Each number on a reel represents a multiplier cash prize.
Verdict
My initial thoughts were phew, this is a lot of information to assimilate but soon realized that it's not the case when I started playing Avalon II. The 3D slots plays relatively easy and it's very entertaining to boot. Although the base game offers reasonable payouts it can't compare to the payouts offered during the free spin bonus games (8 of them!). If you play at the max. bet per spin (£$7.50) you can win a payout of more than 16,000 times your stake. The Forrest falls is the pick of the bonus games because of its trailing wilds feature. When a couple of them appear you'll win a hefty chunk of cash.