Arthur's Fortune from Yggdrasil is a medium to high variance video slot with 20 paylines, 5 reels, and 3 rows. Let's start by saying that we're avid fans of online slots with mythical themes. Aside from its cracking in-game features and high-visual fidelity, it's the jackpot of 7,510x your stake that will cause a buzz or two. With that in mind, you can spin the reels from £$0.04 to £$100 per spin. The visual fidelity of the slots for real money is sharp and further punctuated by shades of green. By way of Arthur's visual fidelity, Yggdrasil opted for a more simplistic look.
By all means, we're not complaining, especially if the top cash prize is £$750,000! In terms of its in-game treasures, Arthur's Fortune has a Wild Transformation and a Free Spins features. At least it's not 'thin' on the ground, which gives you ample opportunity to snag some impressive payouts. Also, take a peek at our USA online casinos, if you want to play the best RealTimeGaming or Betsoft slot machines.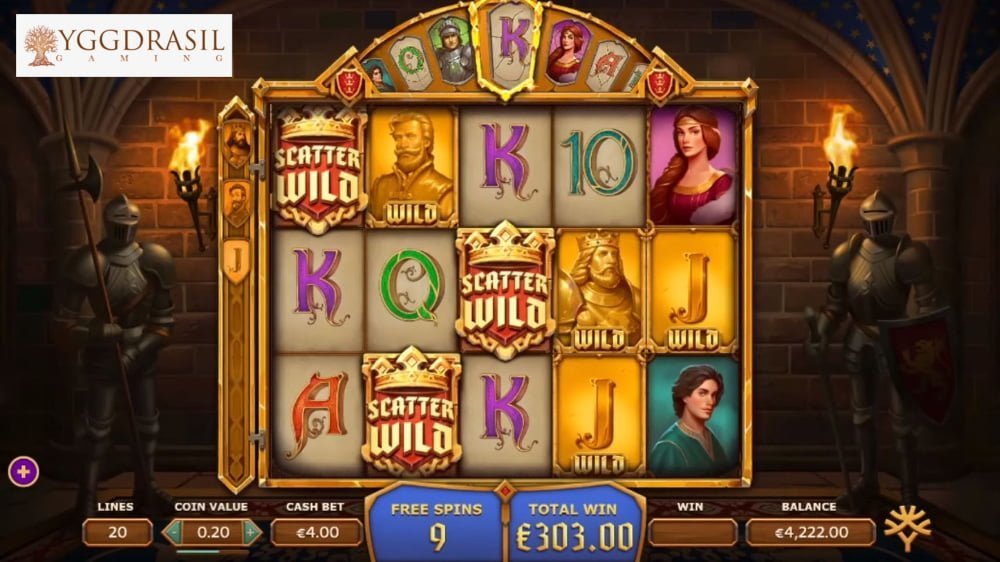 Symbols & RTP
The symbols on the reels are low-value cards from 10 to Ace, the blue knight, turquoise knight, the green knight, Guinevere, the wild (scatter), and King Arthur. The premium symbol is King Arthur when 5 of them pitch; you'll bag a payout of 25x your stake.
If we move onto the more serious stuff, Arthur's Fortune sports an RTP, or average return to player percentage of 96.20%. Luckily this time around, we'll also include the Hit Ratio, which is 22.17%. Therefore, it looks like the RTP and the Hit Ratio gel, and you can expect a winning spin on every 5-6 spins or so.
Bonus Rounds
Features and bonuses
Wild Transformation
Straight out of Sherwood, you can trigger the Wild Transformation feature on any random spin in the main game. Plus, you can score a maximum of 10 wilds! Above the reels, you'll see the main characters. Each with their respective slot. When the slot lands on the symbol, that symbol becomes a wild – not bad.
Free Spins
The Free Spins feature is the bank vault of Arthur's Fortune. We know there's a vast difference when you play slots for real money and its free slots version. We played Arthur's Fortune with free credits at 24K Casino. It took us around 145 spins to trigger the Free Spins feature at an average bet of £$10 per spin. We do admit it's slightly higher than our average bet per spin of £$5. But, we wanted to get a 'feel' for the mechanic at a marginally higher bet level. Anyhow, back to the Free Spins!
Free Spins Awarded
To get into the free spins, you need 3, 4, or 5 scatters, or the Orb symbol. You'll receive the following free spins based on the amount of scatters that appear:
3 scatters give you 7 free spins and one wild symbol (wild conversions).
4 scatters awards ten free spins and 2 wild symbols (wild conversions).
Five scatters award 14 free spins and three wilds.
Symbol Wild Conversions
The wild symbol conversion is active for the duration of the Free Spins feature. Should another two or more scatters appear you'll receive extra free spins:
Should 2 scatters pitch, and you'll receive 1 free spin along with a wild conversion.
If 3 scatters pitch, you'll receive two free spins and another two wild conversions.
When 4 scatters pitch, you'll receive three free spins and three wild symbol conversions.
When 5 scatters pop, you'll gain an extra four free spins and four wild symbol conversions.
In theory, Arthur's Fortune looks complicated, but once you start spinning the reels, you'll get the hang of it pretty quick. The most important role players are the wilds. Also, keep an eye out for the Merlin's Orb symbol. It can pitch on any random spin in the main game or Free Spins. If the Orb pops up in the main game, you'll pocket 25x your stake, and 7-14 free spins with up to 3 wilds. When it pitches in the free spins, you'll win 50x your stake, and you'll receive 1-14 free spins.
Verdict
Arthur's Fortune form Yggdrasil is deceptively volatile! Volatility wise we'll give it a 7/10. So, wrap the audio track, volatility, and theme together you have a slot machine that makes, the Battleground franchise look like a Sunday school picnic. There are enough moving parts in it to keep you busy and entertained, and not to mention the jackpot of £$750,000!
The only thing that might irritate the big spenders is the repetitive nature of this hack-and-slash real money slots. It's one of those games where the fun comes along in short bursts. Certain aspects of Arthur's Fortune is almost RPG-like, yet you might find yourself feeling sleepy because of the archaic formula. Only give it a go if you have the bankroll to match its swordplay. If you enjoyed Arthur's Fortune, give King Arthur a try.