7 Fortune Frenzy is an old-school video slot from Betsoft. At least it comes across as such to us. Moreover, it comes short on the heels of 88 Frenzy Fortune. Though their titles differ by a whisker. Their math models and bonus rounds are similar. The reel configuration of 7 Fortune Frenzy has 4 reels and 1 payline. So what has changed? The symbols, of course!
The volatility is medium and the top jackpot is 2,368x your stake on one spin. Though not out of this world it's great for casual players. At least you can play for quite a few different bets. The coin betting range is $0.06 to $30 per spin.
The slots for real money is now live at our best legal casinos online in the USA. Once you sign up. US online casinos pad your bankroll with a casino bonus worth up to 500% on your first deposit!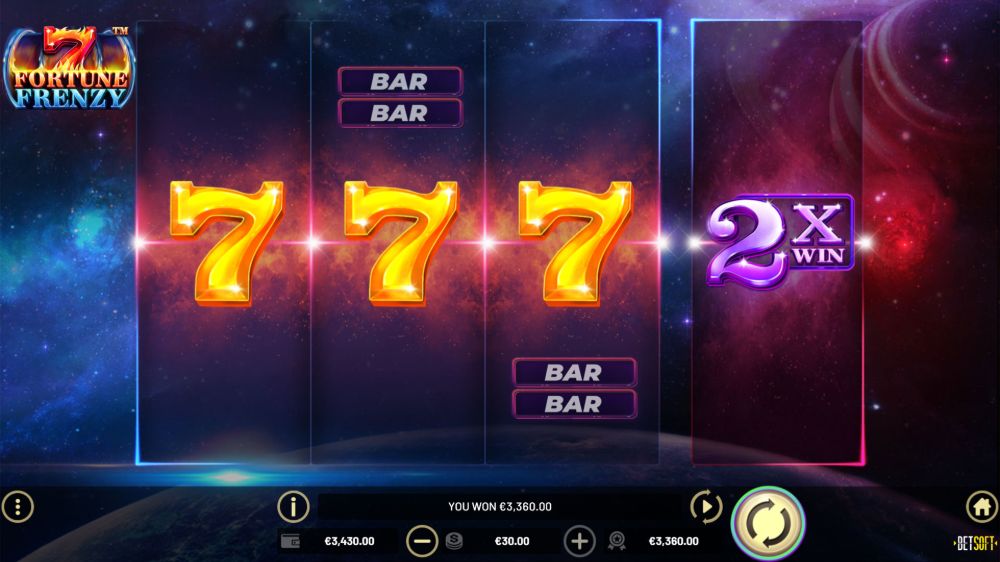 RTP & Symbols
The payback rate of 7 Fortune Frenzy is 96%. That's the most average value of them all, though that's for the better. With many studios now undercutting their slots, the Betsoft team is keeping things on the good side. That's nice to know and we hope that the trend won't reverse anytime soon.
For symbols, there are sevens and BARs. Yes, that's it. The background has some nice space scenery, though, with great electronica music in the mix as well. Note that you only need to find 3 symbols of any kind on the payline to get a win.
That sounds easy, but it's harder in practice. That's because blank symbols can land on the field as well, making wins harder to get. The top win in the base game is 296x stake for a bunch of fiery sevens. It goes downhill from there and rather quickly at that. Golden sevens won't pay more than 56x your bet, which is the second-highest payout. If you get a mix of the symbols, you'll get your stake back at least.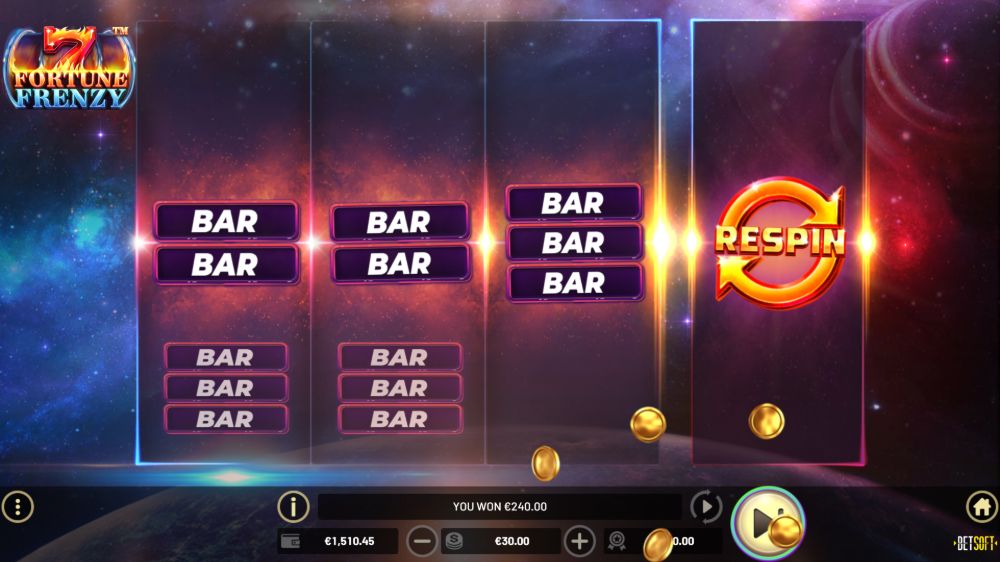 Bonus Rounds 7 Fortune Frenzy Slot
Bonus Frenzy
The fourth reel doesn't hold any pay symbols. Instead, it has modifier symbols. These come into effect whenever you line one up with a winning combo. Moreover, there's a modifier associated with the symbol as well.
There are three special features at play during the bonus round. They are multipliers, win multipliers, and respins. Bet multipliers are coin wins, essentially. They can be 8x or 18x, applied to your stake. In return, the game's engine applies the win multipliers to your payout. The size of the bet multiplier comes in three sizes namely 2x, 5x, or 8x.
Finally, the respins guarantee you identical wins. You'll get the same payout again, but with a win multiplier worth 4x. Now, that's something you can chew on! In addition, you can snag an extra 5 respins in a row. Unfortunately, that's the limit 7 Fortune Frenzy comes with. The respins is your doorway to best payouts!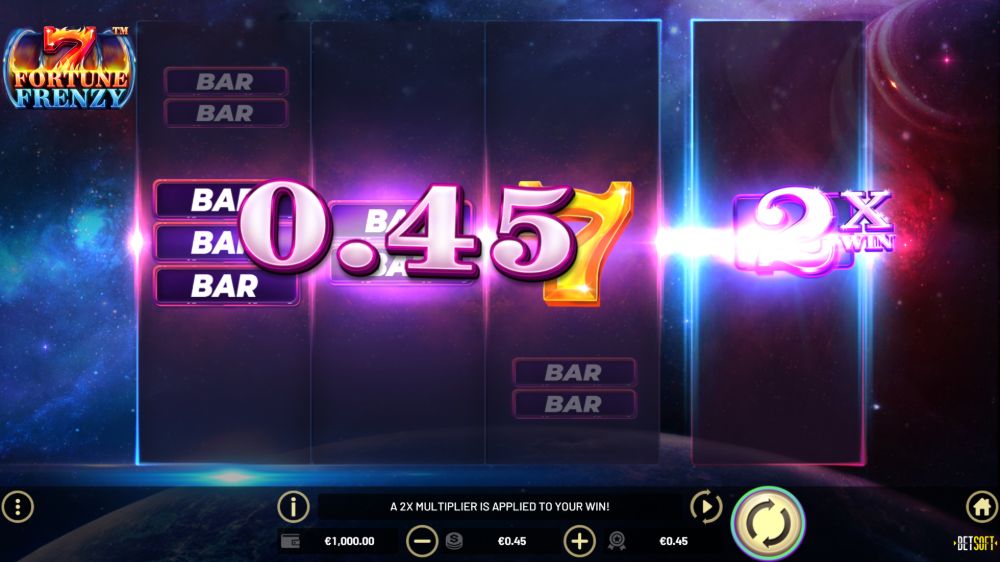 7 Fortune Frenzy Tips & Strategy
We played 7 Fortune Frenzy not long after 88 Frenzy Fortune. Right off the bat, we noticed that the mechanic is virtually the same. So, a tad confusing and there aren't any noticeable differences aside from the symbols.
Despite that, we had an enjoyable playing experience. There's something relaxing about a slot with a single payline. The wins keep popping up but they're small for the most part. We did receive the odd 'big win' of 5x to 7x our stake.
Verdict
It's hard to rate 7 Fortune Frenzy in any objective way. That's because it's a copycat of 88 Frenzy Fortune. The only thing that's different well a bit, is the visual design. Other than this. The slot's engine, payline structure, and visual arrangement are pratically the same.
On that score, Betsoft loses a few points from us for lack of innovation. If you're into slots with an odd space theme be our guest by all means. Want to play a Betsoft online slot with a bite of a Sabertooth cat? have a look at Primal Hunt. To be honest, Betsoft's latter slot machine releases compare poorly to it.
As you travel back in time to the Stone Age. The slot machine welcomes you with an RTP that's above 96.10%; Free Spins, Elemental Wilds, and a jackpot of more than 4,000x.