6 Wild Sharks is an entertaining slots for real cash from 4ThePlayer, an upcoming studio. The online slot throws down the gauntlet with 6 reels, 4 rows, and 4,096 ways to win. We cannot help but feel that after you played the game you won't want to go into the water again. After all, it has that 'Jaws' vibe about it.

The game's volatility is sharp. So much so that it clocks a 9/10 on the Casinowhizz slots scale.
The good news is that 6 Wild Sharks offers a jackpot of 10,368x your stake. Moreover, you can spin the reels from as little as £0.10 to £50 in the Classic mode.
Note, the max bet per spin skyrockets to more than £1,000 during the Advanced mode. Which significantly increases the volatility and the size of the jackpot.
We like the audio track. When it blares across your speakers you might want to hang onto your speargun.
The visual fidelity is not as HD as we would have liked. Then again we do understand 4The Player's intentions with it. It's a high-payer; so why bother with the visuals.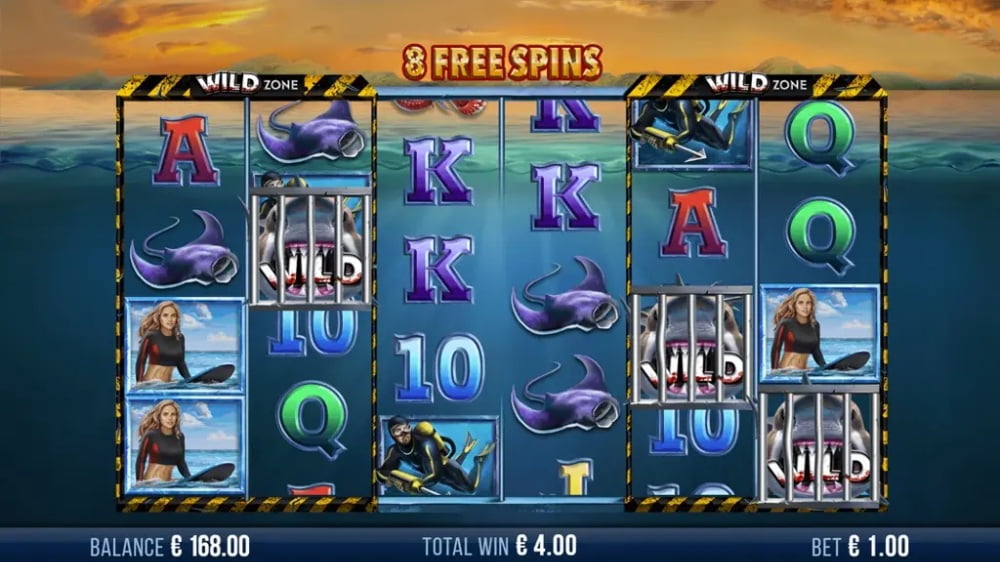 Betting Range
Also, if you bet the maximum bet of £50, it sets you up for a jackpot of £518,400. Give the free slots version of 6 Wild Sharks a shot as a free slot before you play for real money.
It gives you an idea of whether the Classic or the Advanced Mode is for you.
Most games from 4ThePlayer have a unique core mechanic, and 6 Wild Sharks is no different.
It has two modes namely Classic and Advanced. You can switch between these two modes at any time. We suggest you give the Advanced Mode a shot. It has special Locked Wilds that can do wonders for your bankroll. Especially with the large number of ways to win.
If you want to up your payouts in the base game.
You can opt for the Front Wild Zone. If you're chasing the big wins, the Font Wild Zone is the way to go. Just remember the volatility increases as well.
You can play 6 Wild Sharks at one of our top UK online casinos. They offer you a massive library of games from various software developers. But more importantly, if you had a big win. You can withdraw your money through Skrill, or Neteller in less than 20 minutes.
RTP & Symbols
If you play around with it, the advanced mode increases the slot's RTP. In the Classic mode, it stands at a decent 96.50%. But, during the Advanced Mode, it shoots up to a crazy 97.00%, which is excellent.
The symbols of 6 Wild Sharks are sea creatures such as fish, manta rays, octopuses, and sharks. Unfortunately, only the top-paying symbols are thematic. If you are from Australia you can visit our Australian casinos online. They offer you the best pokies, massive bonuses, and they clear payments fast via credit cards.
Bonus Rounds
Free Spins
"Customise your free spins by trading spins for locked Wilds."
6 Wild Sharks allows you to snag some free spins when the scatters pitch on both middle reels. If you trigger the feature in the Classic mode. You can trade a few free spins for more Locked Wilds.
Now, if you decide to skip the trade. You receive 15 free spins with no Wilds whatsoever.
If you choose to use it fully. You'll pocket a single free spin with 6 Locked Wilds. Basically you can determine your own volatility in the free spins which is kinda cool.
When you trigger the Advanced Mode. You'll pocket get 10 free spins with Locked Wilds. In both modes, you can add an extra 3 free spins to your tally should another two scatters appear. You can also hit a few bonus Locked Wilds if you're lucky.
Verdict
6 Wild Sharks is a typical 4ThePlayer slots since it has one main gimmick where play revolves around. We like the fact that you can switch between Classic and Advanced modes whenever you please.
Therefore, it gives you a lot of playing independence. Not to mention the fact that the max bet goes up to 32x. Which is costly, to say the least. But, you'll up the hit ratio a lot.
In layman's terms, it means more winning spins for you. Only the high rollers can afford this little luxury.
Make sure the hype of the different Modes doesn't catch you. Because it can lead to reckless play.
To get an idea as to what you're up against. We strongly suggest that you play the free slots version before you drop real cash. Play around with the Classic and Advanced Modes to see which one suits you best.
We'd like to point out that the Classic Mode is rather 'meh'. The feeling we get is that it tarnishes an otherwise great slots. The Advanced Mode is great but it comes with a price. So, the gist of the matter here, is 'less is more'?
The game comes alive during the Free Spins since you must fill the wild zones with Locked Wilds. Manage that and the pipeline dream of winning 10,368x your stake suddenly becomes a reality. Another thing we picked up is that the free spins is independent of Advanced Mode.
Guess the proof in the pudding here is to play it. Enough said! We highly recommend, Western Gold Megaways. Keep an eye on those multipliers and the Cascades.