2 Gods Zeus vs Thor is a slots for real money online from 4ThePlayer. One can say that 4ThePlayer is practically hand in one glove with Yggdrasil Gaming. We hold the opinion that few slots providers can match Yggdrasil when it comes to mythological themes. One of the studio's previous releases is 9K Yeti.
Despite the almost standard reel set up of 5 reels, 4 rows, and 2,048 ways to win.
There's one thing that sets 2 Gods Zeus vs Thor apart from the slots pack. It sports a unique Dual Spin mechanic.
The Dual Spin mechanic is the beating heart of the slot as it makes its core gameplay special.
There are two Spin buttons instead of one. On top of that, there are two sets of symbols.
The red symbols pay from left to right and the blue symbols from right to left. More importantly, these sets of symbols have 1,024 ways to win. Moreover, when you get a combination that matches your chosen Spin button, it will double in value.
In contrast, combinations of the other color pay just once. It's a nice idea to choose a side for each spin. It makes the real money slots more engaging. Especially if you like mythology and enjoy choosing between Greek and Norse gods.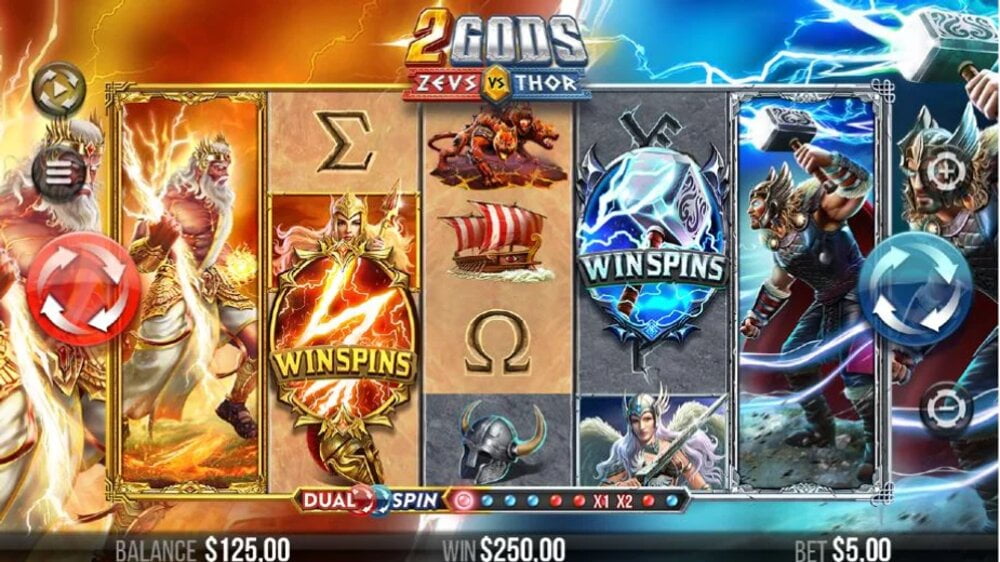 Symbols & RTP
You can play 2 Gods Zeus vs Thor from £0.10 to £20. Regrettably, the max bet per spin takes the shine of the game for the high rollers.
To be honest, it just doesn't make sense as to why 4The Player opted for this move. To us its a case of lost in slots translation.
The RTP of 2 Gods Xeuz vs Thor is 96.50%. That said, the volatility is sharp, so don't expect plenty of winning spins. We reckon the Hit Frequency is 25 percent which gives you a winning spin on every 4th spin.
The jackpot stands at 15,360x of your bet. Now, if we factor in the max bet of £20 per spin. The top cash prize of £307,200 doesn't look as rosy. Yet, it's no chump change.
You can play the slots for real cash at our best mobile casinos. We recommend portrait mode because it makes the graphics pop.
The symbols of 2 Gods Zeus vs Thor combine Greek and Norse mythologies. As you spin the reels, you'll see ships and all kinds of mythical creatures. The symbols across the reels are Greek letters instead of the low-value card ranks.
The premium symbol is the goddess. When 5 of the pop up you'll pocket a payout of 7x your stake. Both Thor and Zeus are the Wilds. They enhance payouts during winning combos when they substitute lessor symbols.
Five wilds on any payline pay 10x your stake. Players from the United States can visit our USA online casinos for incentivized deals. Just for pitching, they offer you exclusive bonuses of up to 500%.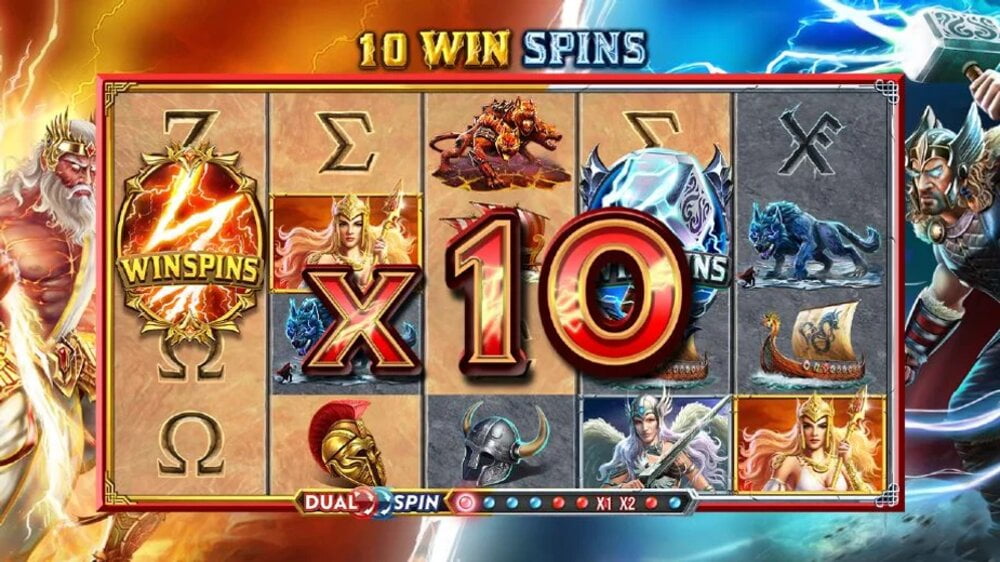 Bonus Rounds
Win Spins and Win Spins Multiplier
Aside from the Dual Spin mechanic. 2 Gods Zeus vs Thor offers a Win Spins Feature that are free spins with a twist. Now, to get into the feature.
You need at least 3 scatters. There is a small catch though since it boils down to the colour of the scatters. If two or more match your chosen Spin button, you'll pocket a cool 10 free spins. If not, you'll only receive 7 spins.
The best part about the Win Spins Feature it guarantees you a payout on almost every free spin. You can re-trigger the free spins should another bunch of scatters pitch.
The formula is the same. If you get lucky with matching colors. You'll score an extra 10 free spins while you're going to get seven if you don't.
There's also the Win Spins Multiplier that's active at all times. It increases by one whenever the winning symbols match the color of your chosen Spin button.
Verdict
2 Gods Zeus vs Thor is an exciting online slot. Yet, it relies heavily on its Dual Spin mechanic. To a degree, it's both good and bad. If you remove the Duel Spins Mechanic the slot game falls flat.
However, we do commend the small-time studio for coming up with this whopper! It's a superb syncretism of Greek and Norse mythology. And, a clear indication of what we can expect from the studio going forward.
Furthermore, instead of just a standard Win Spins feature that includes Free Spins. It juices the feature up with progressive win multipliers that increase by 1+. Therefore, it significantly improves your odds of hitting the jackpot of 15,360x your stake. The RTP of 96.50% along with a hit ratio of 25% keeps the bankroll flowing.
Onto the not so nice. It's hard to trigger the Free Spins feature. We fired up the free slots version and it took us around 150 spins. Now, if you play it for real cash it could be as high as 180 spins, maybe more.
Last but not least. It would have been better if 4ThePlayer added a streak or two to the base game. At times it's difficult to plow through. As a result, the game could lose its appeal to casual slots players. If you enjoy playing games with innovative features, take a peek at NetEnt's Rage of the Seas.
WHIZZ HOT?
WHATS NOT SO HOT?