Some folks might be sick of all the "girlie" machines the gaming industry is spewing out now. Most of them have that "gobbly gook" nonsense. They come tumbling down your screen which makes no sense at all.
From the sound of things, women like playing them more than men. Moreover, men prefer playing a new breed of slots at online casinos.
Many players are still looking for the classic 3-reel machine and not the hyped-up stuff we're seeing today.
The question is, is the three-reel classic still a good thing? Players call them classic three reels "steppers" due to the motors controlling the reels. They're the slot machines you'll find in land casinos.
Is "Stepper" Slots Popular?
The motors, the Plexiglas, and the reel strips break down. As such it's not easy to find spare parts for these machines. The newer games are easier to maintain and integrated into a continuously evolving casino floor.
The new generation of slot machines has multiple game themes, bonus rounds that pay well, and no Plexiglas. It's pretty evident why they don't use the "steppers" any longer.
Can they do anything about it? Any player's disposable income spent on gaming speaks volumes to the casino. It costs nothing to let casino management know that you enjoy playing the classic "stepper" slots.
We'd appreciate it if they could at least have one bank of 6 or 8 per denomination. That includes quarters or dollar machines on the casino's floor. We think it's safe to say that casinos listen to their classic Stepper fans from time to time.
Best Stepper Slots to Play for Real Money at Online Casinos
Stepper slots at online casinos offer you great winning potential. We urge you to practice responsible gambling when you play slots. The majority of the steppers have an RTP or return to player of 96%.
One Stepper that stands out from the crowd is All That Cash: Power Bet. The RTP of the game is 96.50%. Other popular stepper slots are Tripple Red Hot 7 and Red Alert. 
The jackpot of Triple Red Hot 7 is $600,000 with an RTP of 94.91%. Judging from the size of the jackpot and the low RTP it's a high variance slot.
Red Alert offers a top cash prize of $525,525 and the RTP is significantly better at 96%. Now, if you're looking for a good shake, All That Cash: Power Bet is the way to go.
Looking For an Online Casino That Packs a Punch?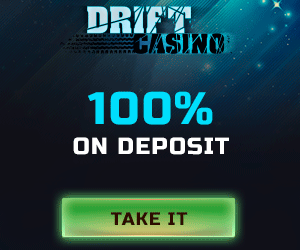 The aforementioned Stepper slot machines are definitely not for us. If you're looking for a great getaway to play the best slots online to win money, we recommend Drift Casino.
The games in the casino's library are from multiple award-winning slot vendors. The real money casino pays slot wins fast through Skrill on the same day.
There's a rewards program that gives you cash even when you've lost money. When you register a new account, Drift Casino gives you a bonus of 150% up to €/$500.
Alternative Slots to Play Than 3 Reel Steppers?
There are great alternatives to 3 Reel Stepper slot games. Our favorite slots online are the new releases like 72 Fortunes from Betsoft. Instead of just having a simple reel mechanic like the Steppers.
72 Fortunes offers you respins with multiplier wins of up to 18x. Moreover, the slot has a jackpot of 4,400x your stake, and high rollers can bet up to $90.
April Fury and the Chamber of Scrabs is another great slot to play to win money. Betsoft jazzes the game up with pin-dropping audio, gorgeous game art, and a 4,000x jackpot.
You can buy anything from 5, 7, or 9 free spins through the buy option. The Hold & Win feature triggers on a random spin in both the base game and free spins.
Conclusion Are Three Reel Slots "Steppers" Real Slot Machines?
You'll still find them at land and at online casinos because there are still players that enjoy playing them. We like to play three reel steppers now and again.
However, we prefer Rival's Hot Drop Jackpots like Play With Cleo at Ignition Casino. They guarantee you a Hot Drop Jackpot win every hour or day.