Spirit Of The Inca Progressive Jackpot Slot On The Verge Of Payout
We have it on good authority that one of Realtime Gaming's top progressive slots, Spirit of the Inca is just about to pay out. The boiling point of the slots is $200,000. Currently it's ticking away at $196,215. The best time to play the slots is now. Believe it or not online casinos like to announce their winners. Although they don't want you to win often they do want you to win big. I mean they really do. It's the best publicity they can get.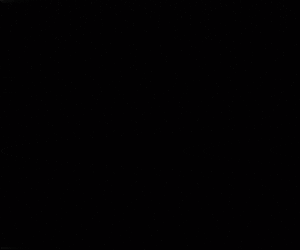 If you're looking for an online casino to play Spirit of the Inca, Casino Extreme comes to mind. The operator accepts players from the United States you can play using debit/credit card or bitcoin. It's perfectly legal for American players to play here since it's licensed by the Curacao Gambling Board. That said, U.S players must be at least 21 years old before they can deposit and play here. You can pick and choose from 200 RTG games. Plus a nice exclusive sign on bonus of 200% up to 500 credits is offered to play them. The operator offers a decent VIP program such as comps, superb service, cash back of 30% on losses and fast cash outs.
The reason why people gamble is to win money. Leaving the casino with more money than you deposited and winning a progressive jackpot at that is considered the Holy Grail. Actually this is the driving force behind the entire gaming industry. Players play to win.
Spirit Of The Inca Progressive Details
When you visit a casino and you hear bells and whistles chances are pretty good that some lucky fellow just hit pay dirt. With Spirit of the Inca on the verge of paying out this might just be your lucky day or night. The slots machines comes with 20 paylines and 5 reels. It brings to life the ancient civilization of the Incas. If you don't know who the Incas were they were a Meso-American Indian race that lived during the fourteenth century. They're best known for their impressive temples, architecture, colorful pottery and administrative prowess.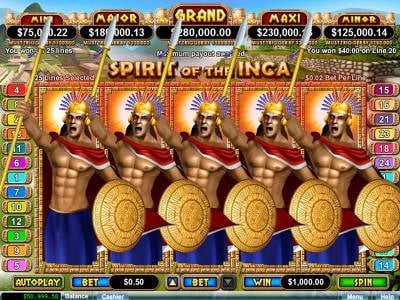 Symbols that appear on the reels are jaw-dropping Inca temples, Inca maiden, hand crafted bangles, pottery and an Inca Warrior which also happens to be the wild icon. The scatter symbol is the beautiful Inca priestess. When 3 or more of them appear any where on the reels you'll receive scatter wins multiplied by the total bet.

Bonus Modes
The ability to play long enough is to experience the best part of a slots machine: its bonus round. One can say it's a game within a game. The longer you play the better your chances are of triggering the bonus round. Overall gambling should be seen as fun. But, if you're playing a progressive jackpot what better way is there to get the adrenaline rushing. Playing a slots of this nature gets the blood pumping, your eyes get wider and your muscles tense. In short your body is high on natural dopamine.
Free spins: The free spins mode is triggered when the wild symbol lands on reels 1 and 5. Fifteen bonus symbols will appear. You'll receive 5 symbol bonus picks, the first 3 revealing up to 25 Free Spins. The fourth pick reveals a multiplier from 1x to 10x. The fifth pick can reveal No Bonus, a Wild reel or an extra Wild on each reel for free spins. An extra 10 free games can be added to this feature if it's be re-triggered. The maximum bet gives 5 you boiling jackpots to win. One jackpot will be disabled if you decrease your bet even it's just by one.The boiling pots will act as indicators towards the value.