Main Bets in Baccarat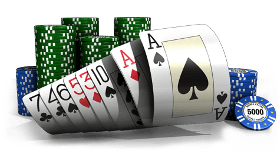 There are only three bets in both normal baccarat and mini-baccarat: the banker, the tie, and the player. Before you can play baccarat you must know the rules of the game.
Interestingly, the number of decks and the house edge varies from one casino to the next. In big baccarat, the casino uses 8 decks of cards, and six decks in mini-baccarat.
For many years, Binion's Horsehoe casino in downtown Las Vegas only charged a commission of 4%.
This resulted in a house edge of 0.60%. In 1989, the Las Vegas Sahara offered commission-free banker bets up to $100, the player edge was 1.24%.
Pay on tie bets can fluctuate, some casinos can offer tie bets of 1 to 9. However, pit bosses soon realized that the bets at the payoff were susceptible to card counting.