Mega Moolah Jackpot Slot: Tips And Strategy To Win
When it comes to playing a progressive jackpot slots it's imperative that you get your head in the game right from the very first spin. In other words you must have a definitive game plan or set rules how you're going to play it.
Some might say playing a progressive is simple all you need to do is deposit and play and the reels will take care of the rest. To a certain extend this is true but there's a tad more to it than meets the eye.
Every single player that ever played a progressive slots had that sparkle in their eyes while their imagination ran riot with them. Common questions folk often ask: What will I do if I win £1 million or even £5 million pounds? Maybe I'll buy that Mercedes, that big house situated at the beachfront or I might save it for a rainy day. Either way winning a progressive is a life-changing win altogether but hanging onto the cash can be a problem in itself too. Any way this is a story for another day and outside the scope of this piece.
One progressive jackpot slots in particular that's been hogging the limelight more times than I care to remember is Microgaming's Mega Moolah. Yup, the one and only, this slots made more instant multi-millionaires than some dogs have fleas! Just to give you an idea on how wicket this slots really is, a player by the name of Jon Heywood won a heart-stopping £13.2 million on a stake of 25 pence in November 2016! What this tells me is that it breaks the norm when it comes to playing progressives in the traditional sense-you don't need to wager the max bet per spin to win the top cash prize. It's nuts I know.
Get 50 Free Spins Bonus With No Wagering Requirements
Just so that you know, the outcome of a progressive jackpot is completely random and it's linked to a central progressive network. Every time the game is played a small portion goes towards it which causes the game's jackpot to grow and grow until it's hit. If the progressive offers a jackpot of $1 million it's reset to $500,000 and the wagers made on it will cause it to grow again. As the jackpot increases it reaches what we call a break-even point which makes the jackpot feasible and worth giving it a bash. Once a progressive reached it's break-even point players will start playing it like crazy because it's on the "verge" of paying out.
What exactly is the House Edge on a typical progressive? Normally we're looking at 4% to 5%, in layman's terms £4 to £5 goes to the casino for every £100 wagered. The funds are used to pay the casino's staff, the software, licensing and so forth. Progressive jackpot are very volatile and seldom go above the break-even point.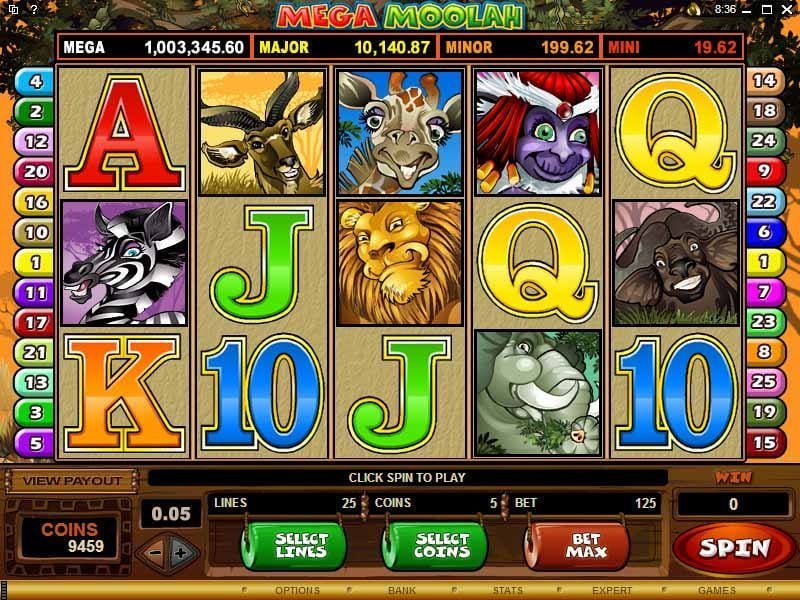 play mega moolah



Mega Moolah Progressive Overview
Come to think of it how does the Mega Moolah progressive jackpot system work? Every bet placed or spin made could be a potential jackpot winner because the amount you staked is linked to triggering the Jackpot Wheel. The game mechanics is pretty straightforward, let's say you wager £0.25 per spin, your chances of hitting the jackpot is a half less than a player who wagers £0.50 per spin and a quarter less than a player wagering £1 per spin-you get the idea? It stands to reason the more you wager per spin the better your chances are hitting the jackpot.
Mega Moolah has a non-progressive jackpot of 225,000 coins.

It has 4 progressive jackpots (Mini, Minor, Major and Mega).

An unusually high RTP (return to player percentage) of 96% or a House Edge of 4%.

Has a wild substitution, free spins mode and the Jackpot Wheel which is more for high-staked players.
The free spins mode is initiated when 3 or more monkey scatters appear awarding you 15 free spins with multiplier wins of 3x attached to each free spin win. Of the 4 jackpots the Mini jackpot is the smallest which normally pays between 10x to 50x your stake. The Minor jackpot pays 100x your stake, the Major jackpot pays tens of thousands while the Mega jackpot pays in excess of a £1 million plus.
Previous Big Wins Mega Moolah
Georgios M from Greece won €6.3 million on a €5 bet, incidentally it was the largest online jackpot at the time.

Radoslaw a Polish player won €1.2 million in 2008.

In 2016 Jon Heywood won £13.5 million with a bet of £0.25 per spin.
Tips And Strategy
Let's put it this way if I had the recipe to unlocking the secrets of winning a progressive jackpot I don't think I'll share it with anybody. However, playing a progressive entails a lot of discipline and of course oodles of luck!
1. Discipline is key
Before you play Microgaming's Mega Moolah progressive jackpot slots it's important that you set your budget aside and that you stick to it. If you're a high roller and your budget is £5,000 don't dip back into your credit line to deposit more funds, if the cash is finished stop playing.
2. Why Freebies Are Important
If you're a regular player at your casino, let's say it's a site like BitStarz Casino the operator offers you various incentives every time you play. If you've lost, you get cash back on your losses sometimes they can be as high as 20% and comps on selected games that can be exchanged for real cash. If you play Mega Moolah ensure that the casino gives you a few free spins on the house or any bonus for that matter. Don't be afraid to ask, casinos can be quite generous sometimes.
3. Use The Match Bonus
PlayOjo is one of few UK online casinos that I know off that allows players to use its sign on bonus to play progressive jackpots. To me it's a win-win because if you're a progressive player your bankroll is doubled upon your first deposit. This in turn gives you enough cash in pocket to hopefully win a sizeable amount of cash or even the 'Mega Jackpot'.
4. Study The Paytable
Before I play a slots I consult its Help Screen first, one thing I don't like about progressives is that they can't be played in the free mode only for real cash. Playing a slots for free gives you some insight into its inner workings and how many spins it takes to trigger its bonus mode.
When playing a progressive you're 'playing blind'. Unlike a non-progressive slots the outcome is completely random. You have no idea how long it will take before you to trigger a free spins feature or any other bonus mode. I guess this is why progressive jackpots are very exciting to play.