Odin Infinity Reels Megaways Slots from ReelPlay features 2 to 5 rows and 117,649 win ways. Initially, there was a bit of a flare-up between NetEnt and Australian casino games developer ReelPlay over a certain in-game mechanic. Luckily, the real money slots providers buried the hatchet and came to an agreement.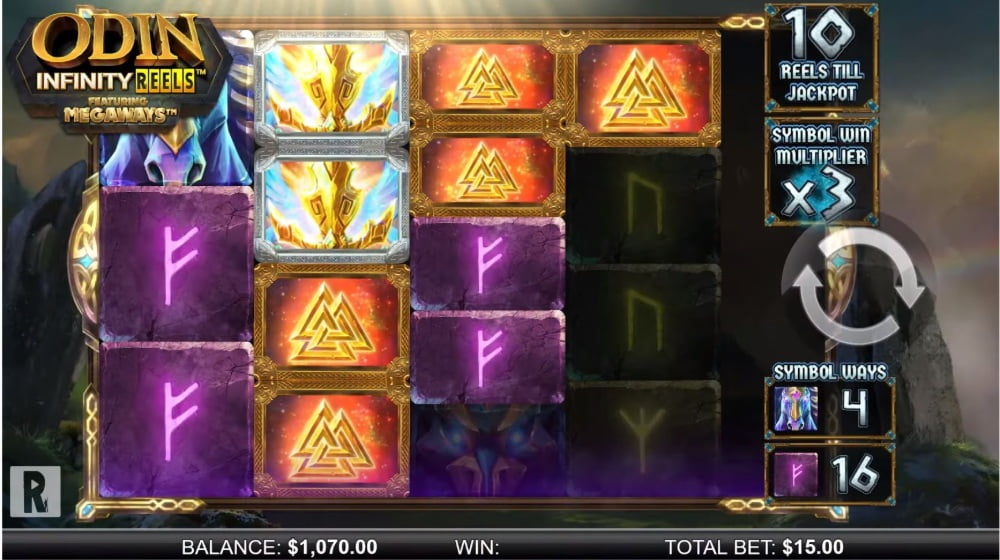 The visual fidelity of Odin Infinity Reels Megaways Slots is high-end. Furthermore, the collaboration between the two makes for a big splash in an even bigger pond. So, what can you expect? ReelPlay throws in the Megaways slots system and NetEnt its Infinity Reels. That's the short and sweet end of it at least. The net result is one heck of a slots for real cash online.
Right, let's check out the game's features. Strictly speaking, it's all bout Odin, the chief god of Norse mythology. As well as his antics across the Megaways and Infinity Reels mechanic. Despite the cartoon-like visuals, you won't find any free rides here. From the very first spin, everything becomes a slog. Yeap, it's that brutal! To such an extent, it clocks a 9/10 on the Casinowhizz.com slots scale.
If we look at the maximum earning potential you can win as much as 20,000x (£200,000) your stake. Where can I play Odin Infinity Reels Megaways Slots? You can play it from £0.30 to £10 per spin at our top British casinos. Once you sign up, you qualify for Free Spins and a deposit bonus. We advise you to read the terms of the bonus carefully before you accept it. To get a 'feel' for the payouts you can play the free slots version. Please, don't play it if you haven't tried it with free credits first.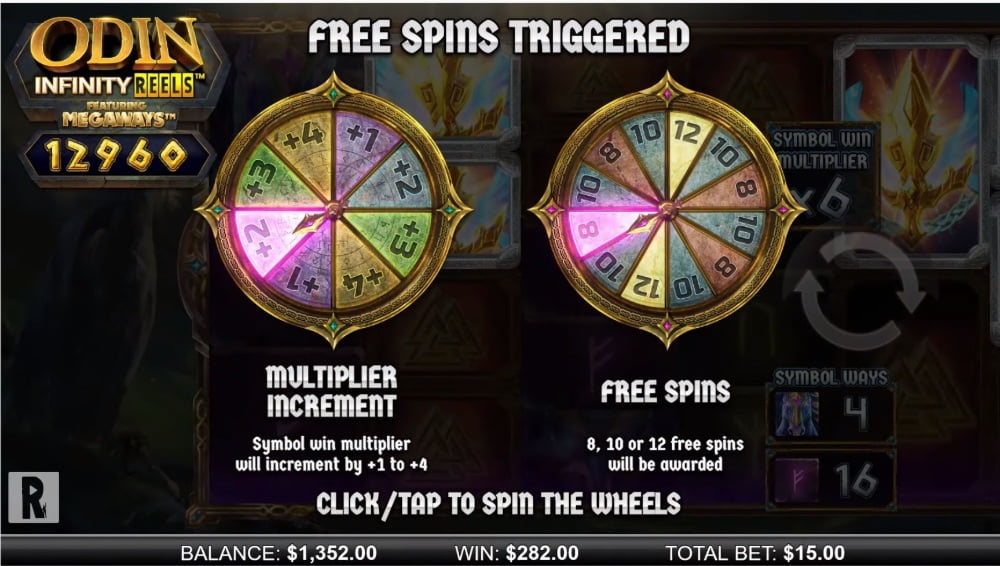 RTP & Symbols
The RTP of Odin Infinity Reels Megaways Slots is 96.18%. Considering the steepness we reckon it's quite good. At least the Megaways slot mechanic blunts the RTP when it reaches 117,649 win ways. Interestingly, it's the very first slot machine online to snag the Megaways to Infinity mechanic. Our USA online casinos offer the best Betsoft slots 2020.
The Hit Frequency is low too, so we're looking at around 27%. Which is not bad per se. Therefore, you can expect a winning spin on every 3 to 4 spins. But, before you can receive a payout, you need at least 3 of a kind matching symbols.
For every winning combo, you can get an indefinite number of reels. Moreover, the multiplier starts at 1x, and its value increases by 1+ for every new reel. The graphical display will make your eyes water and your GPU melt. Okay, just kidding, but the visuals are that good. The symbols on the reels are wolves, Odin, ravens, a horse with 8 legs, the Wild (Valknut), and the runes. The premium symbol is Odin. When three of them pitch you'll win 8x your stake. The other important symbol is Odin's spear. It's responsible for initiating the Free Spins.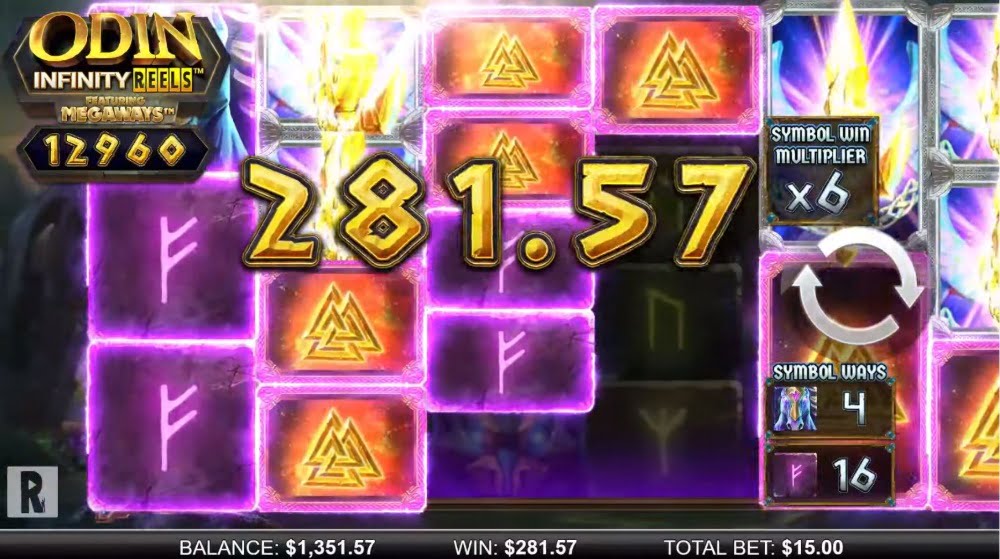 Bonus Rounds
Wild
The Wild symbol is the Valknut. It completes a winning combination when it substitutes symbols adjacent to it, except for the scatter.
Jackpot
There's a jackpot of up to 888x your stake up for grabs too. How do you win the jackpot? To win the jackpot, you must hit 12 or more winning spins in one go. In theory, it sounds like a walk in the park, rest assured it's not. Because your odds of making 12 reels are like 63,323 spins. As you can see, your chances of winning the jackpot of 888x your stake is slim.
Free Spins
The scatter symbol is the spear of Odin. Oddly, you don't trigger the Free Spins feature in a conventional manner. Instead, the scatter must form part of a winning combination for you to trigger it. Note, it's incredibly difficult to initiate the Free Spins.
NetEnt says that it can take as much as 300 spins to trigger the Free Spins feature. Therefore, if you play it, make sure that you have a big enough bankroll. Once you're in, you'll note two wheels. The first Wheel gives you 8 to 12 free spins and the second win multipliers of up to 4x. The key to the big wins is when the win multipliers don't reset. You'll win an extra 4 free spins when the Gungnir symbol pops up.
Verdict
Odin Infinity Reels Megaways is what Elon Musk did to Tesla – magic! However, even though the Infinity and the Megaways system is a first. It will be interesting to see how they 'gel'. Your odds of notching up 12 reels in a row carries odds of more than 63,000 spins. Which is insane, to say the least, because you'll need a bankroll of an oil sheik to catch it.
What we noticed is that the Megaways slots system completely overshadows the Infinity Reels. Which is not always a good thing because it appears that it's a 'toned-down' Infinity version. Aside from that, the jackpot of 20,000x your stake is more than ample to warrant a few spins. Another thing that concerns us is how difficult it is to trigger the Free Spins feature. It can take as much as 300 spins or more.
Make no mistake, there's tons of style and depth. Besides, it's the first Infinity Reels and Megaways Slots hybrid. Maybe it's the beginning of the Infinity/Megaways Slots revolution. If you're big into Megaways Slots, we can't recommend, Primal MeGaways Slots enough.