Craps is not only popular in land-based venues but it can now be played at all our listed RealTime Gaming online casinos.
If there's one table game that really favors the high staked player it's Craps! Reason being it's fast paced, exiting, audacious and it entails loads of risky bets that pays really well.
Craps Mathematics
Craps is a table game that's played with dice and it is a game of chance. Many players believe that they can win huge amounts of cash by just rolling the dice and by keeping their bets low, not so.

To be good at craps you must understand the basics, the mathematics and you must familiarize yourself with the different values when rolling the dice.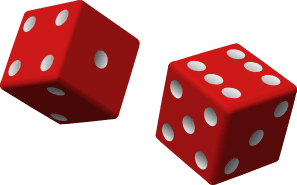 The total combinations that can be rolled on the 2 dice is 36 and the total value varies from 2 to 12. Players can used this to determine their odds and the edge to the house. Winning or losing numbers depends largely on the type of bets made by the player.
To be successful at playing craps, players must understand the relationship between the numbers. They often get confused or become flustered because the odds and bets can be overwhelming. Craps is often called a "negative expectation game" which can favor the player on condition the right bet is made.
Gambling experts believe in "dice control", in other words the number of times that the dice lands on a losing number could be minimized by setting the dice in a certain manner. This is not recommend and should be avoided at all costs.
It's not hard to calculate your winning odds with each total. A 2 can be rolled when the player lands both dice on 1. The odds of 1 dice landing on 1 is 1 in 6. To get the odds of the dice landing on 1, you must multiply the probability of the second event to the first. Your chances of landing a 2 is 1 in 36. Should it be expressed in a percentage you're looking at odds of 2.78%. Or, you can express the odds of rolling a 2 as 35 to 1.
Craps Is Ideal For High Rollers
In brick and mortar casinos craps is normally played by a rowdy bunch of players. Have you ever seen a craps table that's not crowded? I haven't.
Players who play craps online can play at tables that offer high limits. The smallest bet is $1 while the maximum wager is $1,000. The betting range is suitable to seasoned vets and to newbies alike.
However, playing high stakes craps has its advantages but it also has its downside. Playing craps online is anonymous, players can experiment with different bet types and the game is pretty straightforward. While in land-casinos players must follow etiquette and play according to strict rules.
Low-risk bets like Pass/Don't Pass and Come/Don't Come have a tiny house edge of 1.40% in a land casino. Online casino craps is way more profitable for high staked players since the house edge is lower than 1%!
Herewith the craps rules and odds:
Odds permitted: Once again Craps can be configured, there are two settings 2x and 3x. On the pass the maximum wager is relative to the amount, don't come or don't pass.
Field: From what I understand wins on the 12 can be configured at 2 to 1 or 3 to 1. The house edge is 5.56% at 2 to 1 and at 2.78% it's 3 to 1.
Place bets: The HE (house edge) is 6.67% on the 4 and 10 but shoots up to 4% on 5 and 9.
They're just the opposite of 'Place Bets' and used in the UK and Australia. You lose on the chosen number but lose on the 7.
In summary. The only negative aspect about online craps is that it lacks that social factor which is a huge component to the game. Players tend to lose patience at times since they get bored with rolling the dice. High staked players like to have an audience when they play, after all what better way to show off when you're hitting it big!